Home of the Knoxville Flag Football League
** Fall 2021 Season Information **
Week 8 Schedule is attached and standings are updated.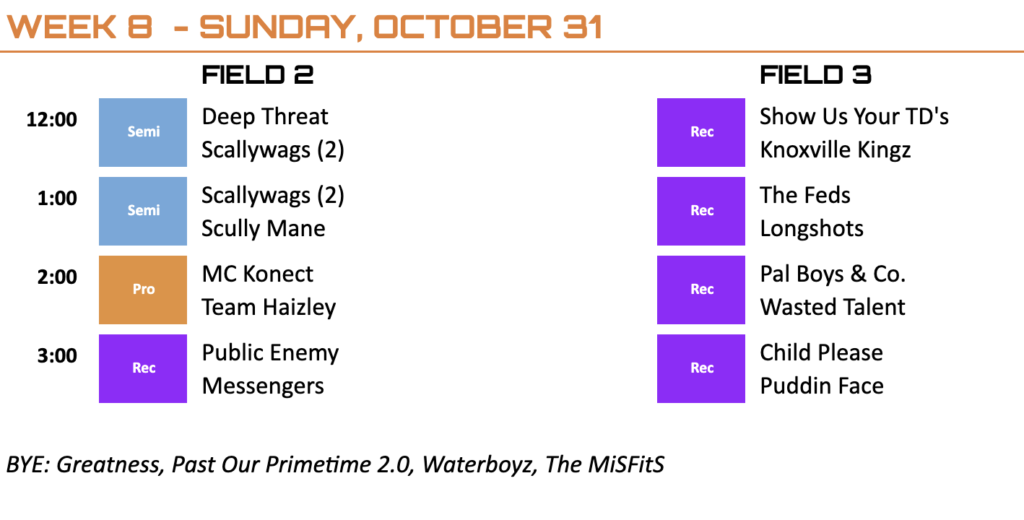 Games will be continue to be played at Tennessee Rugby Park at 8051 Oak Ridge Hwy, Knoxville, TN 37931 and directly across the street from SportsPark in Karns. Any overflow games will be played on the lower field behind the baseball field at the SportsPark. Please remember to have each player fill out and turn in a waiver form at the field house at the park BEFORE you play in any games.
Weather Information
If weather is going to affect the status of any games, each captain will receive a text update from the league on any cancellations and makeup games. Additionally, you may call (865) 300-8763 NO EARLIER than 2 hours prior to the first game of the day. During the season, we will not have any information or make any decisions on any games any earlier than this time. Also, be sure to follow us on Twitter at twitter.com/kffltn for any updates as well.